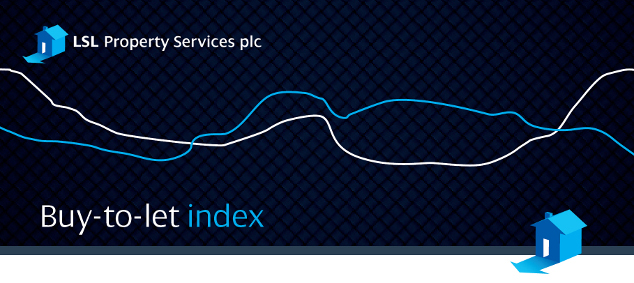 Rent Growth Remains Stable as Tenant Finances Improve
Rent rises of 1.4% in last twelve months leave average residential rent at £747 per month
Tenant finances improve since last year with 7.8% of rent in arrears, down from 8.3% last June
Landlords see total returns reach the highest level since June 2010, at 11.8% per annum
Rents have risen at just 1.4% and tenant arrears have improved over the last 12 months, according to the latest Buy-to-Let Index from LSL Property Services plc, which owns the UK's largest lettings agent network, including national chain Reeds Rains.
The average residential rent across England and Wales is now 1.4% higher than in June 2013. In absolute terms, this amounts to £747 per month, up from £737 per month in June 2013.
While the latest annual rental increase is below the rate of inflation (CPI of 1.9%) for the thirteenth month in a row, this means rent rises have doubled the pace of average pay growth.
By comparison, average earnings have risen by just 0.7% on an annual basis, according to the most up to date figures, released this week.
David Newnes, director of estate agent Reeds Rains, part of LSL PropertyServices, comments: "If rents had kept up with inflation for the last twelve months, this summer would have seen the average rent break through £750 per month. And that hasn't happened.
"With housing costs making up such a big section of monthly budgets, it will be encouraging for many tenants that rents are going up more slowly than other household bills. Thanks to extensive investment by landlords the supply of homes to rent has grown rapidly, and this has restrained rent rises.
"But while the private rented sector is becoming cheaper in real terms, the cost of living challenge continues. And this is because wage growth has been constrained."