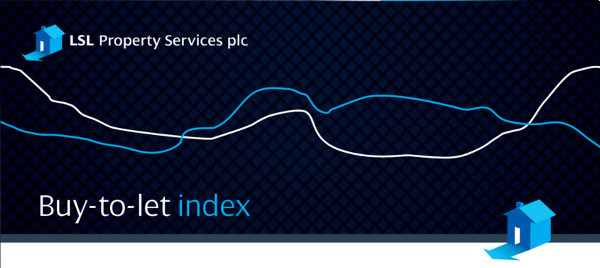 Rent rises drop to less than half inflation
Annual rent rises fall to just 0.6%, less than half the latest rate of CPI inflation (1.6%)
Rent rises total 12.9% since January 2010, but less than cumulative inflation of 14.5%
Tenant finances improve in April, as late rent drops by £18 million since March
Rent rises across England and Wales have slowed to less than half the current rate of inflation, according to the latest Buy-to-Let Index from LSL Property Services plc, which owns the UK's largest lettings agent network, including national chain Reeds Rains.
David Newnes, director of estate agents Reeds Rains, part of LSL Property Services, comments: "Proposed reforms to the private rented sector are clearly well-intentioned, but will not help the rental market. For a number of reasons, tenants would be worse off if all the proposed changes were imposed."
David Newnes continues, "Private renting is not in any form of crisis. Not only are rents rising more slowly than inflation, but the cost of private renting is also rising in line with household incomes. Even before the economic weather changed so recently, the last few years have seen rent rises dwarfed by inflation most of the time. Meanwhile the private rented sector has absorbed millions of households while other tenures have been unable to take up the slack.
"Poorly thought-through proposals could throw a spanner in the works. Firstly, rents would be higher. When tenant fees were banned in Scotland rents rose 4% in the space of six months. This is ten times the rate of rent rises in England and Wales over the same six month period, where such a ban had not been introduced. Before this they were mostly flat.
"Secondly, the equal treatment of potential tenants would also suffer. If tenant fees are banned and the landlord and letting agent have to bear the cost, there is every possibility letting agents and landlords will start pre-vetting tenants. Furthermore, if tenants have no advance financial commitment then there is nothing to stop them pursuing multiple tenancies at the same time and just taking the first one that completes, dropping the others.
"Finally, it should be remembered how not all landlords are 'fat-cat investors'. Many only have one property used as their pension. Others are 'accidental landlords' and rely on the rent to pay their mortgage. If tenants drop out at the last moment, this could mean hardship. Missed mortgage payments would lead to possible repossession. New landlords would be wary of entering the market or extending portfolios. Many would exit – and again that would be bad for tenants.
"Far more effective would be if politicians focused more on encouraging the supply of new homes. Parliament should be debating how to help increase investment in the private rented sector even further"
David Newnes continues: "Improved mortgage lending is helping landlords to expand their portfolios in many areas of the country. And while every corner of England and Wales has its own local market, the overall trend is clear. Landlords are prospering – and tenants are feeling a parallel benefit."

Read the full Buy-to-let Index - 2014 here