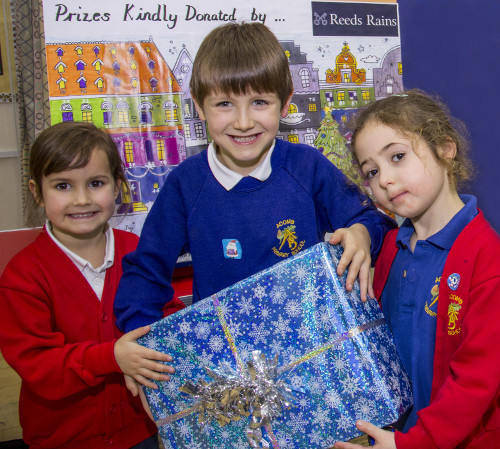 Left to right - Anna Townsend, Samuel Townsend and Ruth Betts from Acomb Primary School
Acomb Primary School based in York have hosted their Christmas fair which brought together families and the Acomb community to start the festive period which included games, mince pies, tombola, cake sale and a visit from Santa.
Local estate and lettings agent Reeds Rains supported the event and hosted a game at the fair which involved guessing which door Santa was hiding behind.
Andy Jacques Branch Manager for Reeds Rains in Acomb says: "We asked Acomb Primary school to help us by decorating the game and they did a great job. The board of houses looked fantastic and we provided prizes for the lucky winners.
The event was hugely successful and it was great to see the Acomb community come together to support it. There are always fun activities taking place in Acomb and supporting the local community is something we are passionate about."
Elsewhere in Acomb, Reeds Rains also work closely with the Acomb Cricket Club by officially sponsoring their kit and their 'Player of the Month awards' which is also part of their drive to build greater links with the Acomb community.
First Captain Andy Tute from Acomb Cricket Club adds: "We value the support Reeds Rains provides and it is great to have them alongside us. We have been promoted from Division 1 of the York & District Senior League into the Premier Divisionand with Reeds Rains support we will continue to be successful."
If you would like to find out how Reeds Rains can help you buy or sell your property then visit the Acomb branch at 1 Carr Lane, York, North Yorkshire, YO26 5HT or call 01904 782621(*) for more information.
(*)Calls maybe recorded for training and/or monitoring purposes.