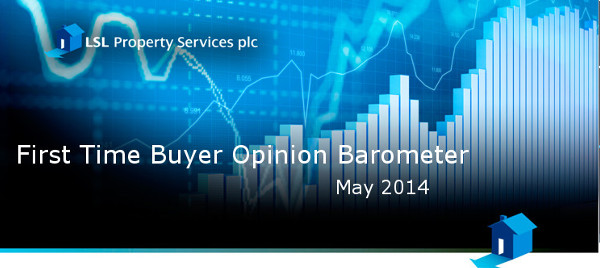 First-time buyers climb 8% in April, despite MMR
47% annual rise in first-time buyers, boosted by Help to Buy
Average first-time buyer deposit falls 7.5% in last year – over £2,000
The majority of first-time buyers believe MMR to be a positive step for the market
The number of first-time buyers grew 8% in the month to April and 47% year-on-year, despite the introduction of MMR, according to the latest First Time Buyer Opinion Barometer from Reeds Rains, part of LSL Property Services.
There were 26,300 first-time buyer transactions in April 2014, up 8% from 24,400 in March 2014.
Compared to last year, the number of first-time buyers was 47% higher in April 2014, with the revival in new buyers aided by the Help to Buy Scheme, which has facilitated more high loan-to-value lending. First-time buyer deposits fell 7.5% year-on-year to £24,618 in April. It was equivalent to a drop of over £2,000 from £26,623 in April 2013.
1 in 10 first time buyers (11%) say the financial assistance of Government schemes such as Help to Buy enabled them to get their foot on the property ladder.
David Newnes, director of estate agents Reeds Rains, part of LSL Property Services group, said:"The tightening of mortgage criteria hasn't dampened the appetite for first-time-buyer property. Many more new buyers are making the jump onto the property ladder, while deposit Lack of a cash deposit remains the biggest obstacle to homeownership for prospective buyers, with 44% of tenants reporting that saving a deposit was a factor prohibiting them from buying this April. The second most common constraint preventing tenants buying was the high transactional costs like stamp duty and legal fees (16%). Only 10% of tenants say they are worried an interest rate rise will push up mortgage repayments in April, down from 13% in February 2014. Other concerns included insufficient income to support a mortgage (15%), possibilities of future unemployment (7%), falling house prices (4%) and decreasing income (4%).
Read the full First-Time Buyer Opinion Barometer here - 2014 here