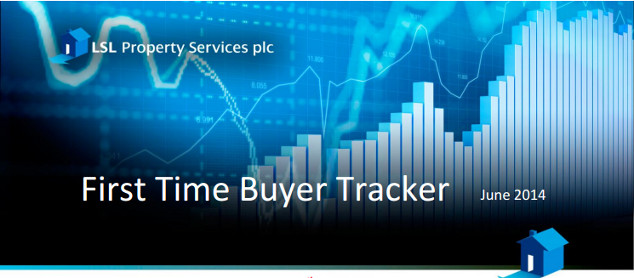 First-time buyer deposits fall 10% in a year
Average first-time buyer deposit of £24,637 in May, £2,700 less than 12 months ago but still 8 months' salary needed
Deposits fall 11% as a proportion of income compared to May 2013
But first-time buyer sales slip 5% in May, as MMR holds back some higher LTV lending
First-time buyer mortgage rates also starting to climb – up 0.08% in last 3 months
First-time buyer deposits have fallen by £2,745 in the last twelve months, according to the latest First Time Buyer Tracker from Reeds Rains, part of LSL Property Services.
Data from estate agency chain Reeds Rains shows the average first-time buyer deposit fell 10% year-on-year from £27,382 twelve months ago to £24,637 in May 2014. It was the fourth consecutive month in which the average first-time buyer deposit was below £25,000.

One side-effect of falling deposits is that they are becoming cheaper as a proportion of wages. The average first-time buyer deposit represented 67% of a first-time buyer's annual income in May, compared to 77% twelve months ago. But the average deposit is still equal to 8 months of the average first-time buyer salary (£37,000).
More lending to high LTV borrowers, supported by the Help to Buy scheme, has allowed the number of first-time buyers to grow over the last year. There were 23,400 first-time buyer sales in May 2014 – 3.5% higher than twelve months before.
The yearly improvement in first-time buyers came even as purchase prices increased. The average first-time buyer purchase price increased 7% year-on-year in May to £146,887, over £9,000 more than in May 2013, when the average purchase price stood at £137,561.
David Newnes, director of estate agent Reeds Rains, part of LSL Property Services group, said: "Help to Buy has helped support the first-time buyer market over the past year. It has encouraged banks to extend more loans to lower equity borrowers, relieving some of the burden of saving for a larger deposit often out of their reach. Average first-time buyer deposits have got cheaper by nearly £3,000 as a result.
"Savings rates have been stuck at rock bottom for over five years, wages are only just beginning to show signs of growth, and the cost of living has been mounting all the while. Without Help to Buy, these stumbling blocks may have been too large for some prospective home-owners to overcome.
"It is imperative to let the scheme run its course. The property market is already weighted in favour of home-owners, who have benefitted from bricks and mortar price-growth. Punishing first-time buyers by pre-maturely cutting back Help to Buy would do more damage than good. To keep price-rises in check we need to upscale housing development and build more new homes offering wider choice and supply to buyers which will dampen any danger of high price rises."