The latest e.surv mortgage monitor, published Friday 10th August, provides a review of the mortgage market.
House purchase loans rise to 49,561 in July from 44,192 in June
But driven by increased activity from wealthier buyers rather than first-time buyers
Lending to borrowers with low deposits falls to lowest for 12 months. Fewer than one in ten of loans granted to buyers with deposit of under 15%
Increased activity from wealthier buyers pushed loans for house purchase up 12% to 49,561, according to the latest Mortgage Monitor from e.surv chartered surveyors.

The strong monthly increase in July reflects weak lending in June, when purchase approvals fell by 12% compared to May, rather than of a recovery in lending. House purchase loans in July were 2% lower than in May, and on an annual basis were 1% lower than in July 2011, which itself was a weak month by historic standards.

The July mortgage market was dominated by equity-rich buyers. With the economy stalling, the costs of funding a mortgage increasing, and the availability of credit drying up, banks are focusing on sustaining lending to borrowers with higher levels of equity and tightening criteria on high loan-to-value mortgages.

This trend became more pronounced in July, when two-thirds of all house purchase loans in July were to borrowers with a deposit of 25% or more. There were just 4,708 new mortgages granted to borrowers with deposits of less than 15%. This represented less than one in ten of all loans in July, the lowest proportion since July last year.

With high LTV lending shrinking as a proportion of overall lending falling to its lowest level in a year, first time buyer numbers suffered in July. There were just 11,399 loans for purchase of property worth up to £125,000 (typical first time buyer homes). This is 6% lower than the average so far this year of 12,111, and is 1% lower than July last year.

House purchase loans for property worth over £500,000 rose 15%, and loans for purchases over £750,000 rose by 17%, reflecting the disproportionate share of the market held by wealthier buyers.

Rate rates and tighter lending conditions have reversed the tentative growth in high LTV lending since last autumn. It reflects with the Bank of England's latest credit conditions survey, which warned the summer would be characterised by a reduction in lending and disproportionately fewer loans to first time buyers.

The quarterly average loan-to-value fell below 60% for the first time since Q3 last year, suggesting the mortgage market is regressing back to the suppressed state it was in during the first half of 2011.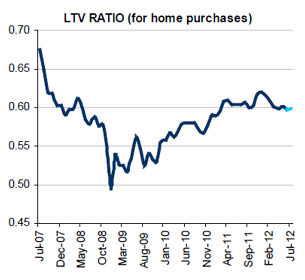 Richard Sexton, business development director of e.surv, explains: "The surge in July should certainly be taken with a pinch of salt. It was an exceptionally weak June by historic standards, thanks mainly to all the Jubilee holidays. Lending rose in July because the market was making up for all the time lost in June, rather than because it is becoming easier to get a mortgage. It doesn't hide the two-tier nature of the mortgage market, with equity-rich borrowers dominating activity while many first-time buyers are locked out by banks lack of appetite for high loan-to-value lending. While credit is so scarce, banks would rather focus on sustaining lending to wealthier borrowers and buy-to-let landlords.

The mortgage market has a long way to go before it climbs out the deep hole dug by the chronic lack of first-time buyer loans and the constraints of tough lending criteria. But escape from that hole looks a long way off. The economy is contracting and the eurozone crisis could still bubble over at any point, meaning banks won't begin increasing their lending to first time buyers anytime soon."