The latest e.surv mortgage monitor has been released today providing a review of the mortgage market.
Loans for first time buyers fall 12% as banks reduce lending to borrowers with small deposits
Banks tighten lending criteria in response to their increased funding costs and eurozone fears
Home loans fall to lowest since May last year; 4% lower than June last year
Just 4,750 loans to borrowers with deposit of under 15% - lowest since October 2011
Hopes turn to government's Funding For Lending scheme to help kick-start market
Loans for house purchase dropped sharply by 8% in June to 46,932 – the lowest since May last year – as banks scaled back their lending to first-time homebuyers, according to the latest Mortgage Monitor from e.surv chartered surveyors. Banks tightened their lending conditions in June and reduced the number of loans to buyers with small deposits in a calculated reaction to their increased funding costs and fears over the eurozone.

First time buyer numbers fell steeply as a result of the tightening lending conditions. There were just 10,325 loans for house purchases under £125,000 (typical first-time buyer property), a fall of 12% from May. Purchase approvals on typical first-timer homes were also marginally lower than in June last year, despite 2011 being a weak year for lending.

The tighter lending conditions were reflected in a sharp fall in loans to borrowers with small deposits. First time buyers were the hardest hit. The number of loans to borrowers with a deposit of under 15% fell sharply from 5,510 in May to 4,750 in June - the lowest since last October. Just one in ten house purchase loans in June were to borrowers with a deposit of less than 15% - the lowest ratio for 11 months – as banks focus on sustaining lending to wealthier borrowers.

House purchase loans were 4% lower than in June last year – the first year-on-year fall for 13 months – signalling the mortgage market is regressing as the economy stalls and credit conditions tighten.

The average deposit on a house purchase loan rose above 40% for the first time since February 2011. Rising rates and tighter lending conditions have reversed the tentative growth in the number of loans (and high LTV lending) since last autumn. The drop in lending reflects the findings of the Bank of England's Q2 survey of credit conditions, which reported a fall in banks' mortgage credit and a reduction in high loan-to-value lending over the summer.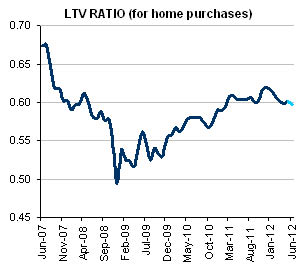 Richard Sexton, business development director of e.surv, explains: "The mortgage market is slipping back into a state of paralysis. Banks are shipping their increased costs onto borrowers like a hot potato. It costs banks up to 40% more to fund a mortgage than it did in February, which is squeezing their balance sheets like a vice. They've responded by upping rates and reducing the number of mortgages they grant. First time buyers have been hardest hit because they have smaller deposits, so are seen by banks as riskier borrowers. While credit is so scarce, banks would rather focus on sustaining lending to wealthier borrowers and buy-to-let landlords.

A significant improvement in mortgage lending looks a long way off. The economy is congealing rapidly while the government struggles to find a recipe for growth. On top of that, the uncertainty in the eurozone will weigh heavily on the mortgage market over the coming months. The crisis has spooked the wholesale money markets – they see banks with exposure to the eurozone as an increasingly risky investment. Banks are diverting funds earmarked for new lending and using them to plug gaps in their balance sheets that could be breached by a serious shockwave from the eurozone.
The government's Funding for Lending scheme can't come into effect soon enough. Banks need access to cheaper funds if they are to increase lending to lower income buyers. Funding for Lending will help, but it may not be on a large enough scale to make any serious inroads into helping would-be buyers escape the rental market."