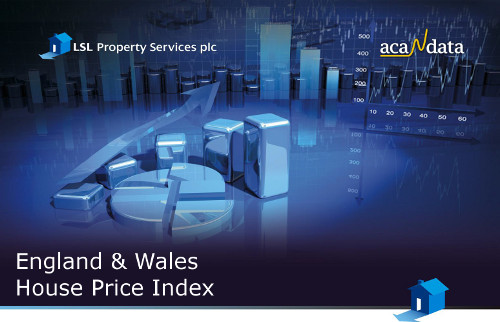 Property market shrugs off slowdown as sales surge 9% in October
Highest number of completed home sales in seven years – driven by an uplift in activity outside of London
House prices climb 0.7% (or £2,026) in a month, in response to demand
Prices fall at top end of London market, as prime central areas of the capital decouple from rest of country
David Newnes, director of Reeds Rains estate agents comments: "This increased level of house sale completions marks a considerable – though laborious – reflection of the increased buyer activity earlier in the year since the recession zapped the energy from the market. October saw the highest level of house sales completed in a month since November 2007. In part this was driven by a better throughput of sales that had sat in the pipeline for some time, finally coming through to completion.
"On a monthly basis, house price inflation has edged up from just a 0.3% increase in September, as we see some modest growth. Recent hiccups in the market have not shaken the overall underlying stability and the average UK homeowner has seen the value of their property rise £26,500 (or 10.5%) in the past year. Average house prices across England and Wales have reached a new record for the sixteenth successive month.
"Not only this, but activity is starting to shift towards areas where the recovery still requires support and attention. The biggest uplift in completions in Q3 2014 compared to Q3 2013 has been witnessed outside of London – completed house sales in both the West Midlands and East Midlands have risen 22%, while in London house sale completions are up by just 3% over the same period. In regions such as the North and East Anglia, which saw average house prices slump during September, further growth in activity is critical to warm up the local recovery. First-time buyers in particular need shielding from any future cooling interventions from the government or Bank of England.
"Zooming in on the regional footprints unearths a more complex path of growth. Only three regions saw house prices set peak highs. These were the South West, South East, and London – as the recovery continues to advance with a Southern-leaning slant. If we omit London and the South East from our calculations, a milder 5% annual change in property prices emerges.
"Yet at the very top end of the housing market in Prime Central areas of London, growth is subsiding. Average house prices across London overall rose by only 0.4% in September – the smallest monthly increase the capital has seen for 15 months as the pace of price inflation cools down from the summer heat. Property prices have dropped in 6 out of the 7 most expensive boroughs over the course of the last month, in exclusive sought-after enclaves such as Westminster, Richmond and Camden. But just as London bucks the country-wide trend, the city does not behave as one uniform entity. In lower-priced boroughs such as Lewisham and Haringey, prices have continued orderly progress in October."