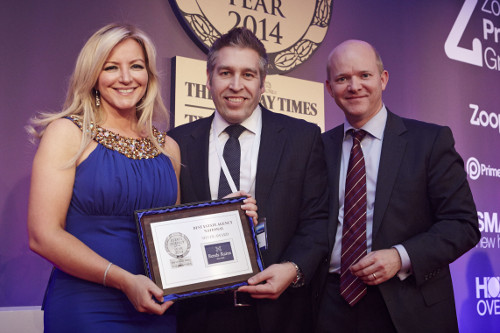 From the left: Entrepreneur Michelle Mone, Reeds Rains Managing Director Oliver Blake, and Zoopla Commercial Director Jon Notley
Reeds Rains have been successful at the Estate Agency of the Year Awards 2014 where it won the Silver award for Best Estate Agency National and the Bronze award for their Financial Services despite tough competition from some of the leading names in the market. The awards, sponsored by The Sunday Times and The Times, are some of the most sought after in the estate agency industry and to be acknowledged as a winner is seen as a major triumph and reflects the professional services available for customers from Reeds Rains.
Now in its twelfth year as a dedicated competition, these awards have become widely recognised as the most prestigious and difficult to win. With more entrants than ever before, over 5,000 offices were represented this year, but only the very best of the best were crowned as winners.
The awards were presented by Michelle Mone, one of the UKs leading entrepreneurs who is the co-owner of Ultimo Brands International and founder of Ultimo, one of the UKs leading lingerie brands.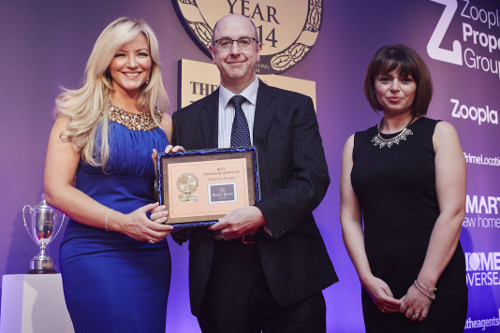 Left to right: Entrepreneur Michelle Mone, Reeds Rains Financial Services Director John Hargreaves, and Mid West Displays Michelle Farnsworth
The Judges report on Best Large Estate Agency recognised Reeds Rains' long history of trust and reliability along with their culture of continuous development and acknowledged that the entire team are property industry experts. They highlighted the great passion within Financial Services and their dedication within the organisation to ensure that transactions are progressed as professionally and ethically as possible for each client. They acknowledged Reeds Rains' high level of customer service which has resulted in a satisfaction ratio of 97% of clients serviced and a feedback score of 98% who would recommend the services across the board.
Oliver Blake, Managing Director at Reeds Rains says: "It is a great achievement to win both awards and they are a real testament to all the hard work and dedication from the staff at Reeds Rains. Well done everyone!"