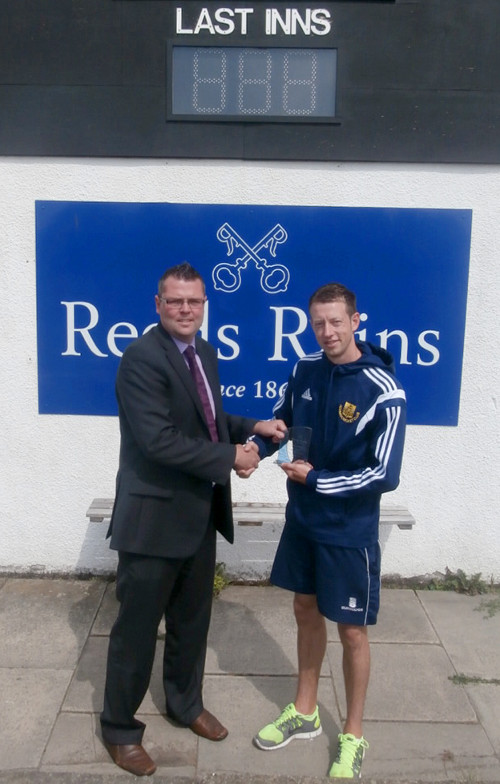 Reeds Rains Branch Manager Andy Jacques with Joe Dale, Acomb Cricket Clubs player of the month.
Reeds Rains is delighted to announce Acomb Cricket Clubs player of the month for July. The player of the month Award recognises an individual player from the Acomb Cricket Club who has demonstrated outstanding performance for the club.
Congratulations toJoe Dale on successfully winning the award for July. Joeplayed 3 times for the 1st 11 during the month of July (1 game rained off). He scored 3 successive half centuries; with a match winning 58. He has also been successful with further scores of 73 against Sessay, and 72 against Pickering taking catches and wickets along the way. Joe also enjoys supporting All Out Cricket Coaching in York, and helps by coaching boys and girls across all ages and abilities.
The Acomb Cricket Club, which is indivision one of the local league,is a family orientated club with history dating back to 1925 with teams in the York & District Senior League, the York Vale League as well as the Pilmoor Evening League.
Andrew Jacques is the Acomb branch manager for Reeds Rains who works alongside the club. He comments: "Joe has worked hard and achieved some great results and we are delighted to be able to offer support by sponsoring the local cricket club. Joe is a very capable player with lots of talent and commitment who is willing to share his experience with others, especially the next generation of young cricketers."
If you would like to find out how Reeds Rains can help you buy or sell your property then visit the Acomb branch at 1 Carr Lane, York, North Yorkshire, YO26 5HT or call 01904 782621(*) for more information.
(*)Calls may be recorded for training and/or monitoring purposes.