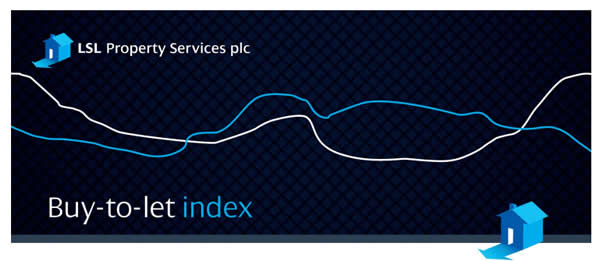 The latest LSL Buy to Let Index for January has been published. The headline details are

Landlords across England and Wales have seen returns eclipsed by those in the capital, according to the latest Buy-to-Let Index from LSLPropertyServices plc, which owns the UK's largest lettings agent network, including Reeds Rains.
London landlords have seen total annual returns of 14.6% in the year to January 2014. A higher than average return of £38,104 per property in London, which equates to 5 x the total return per property in the North East and Yorkshire & the Humber.
Annual returns on rental property in England and Wales, have grown significantly in the past twelve months, to 8.9% in January, up from 5.7% in January 2013.
The average buy-to-let investor in England and Walescould expect to make a total annual return of 13.0% over the next 12 months, equivalent to £22,256 per property, if rents continue to rise.[1]
Read the full LSL Buy to Let Index
---
[1]Assuming house prices change at the average rate of the last three months and they achieve the average yield of 5.2%.