Reeds Rains Bramhall, located off Ack Lane East in the heart of the village, welcomes a dedicated new Branch Manager. Leigh Lawler joins the team at Reeds Rains Bramhall with great enthusiasm and a wealth of experience.

Having worked as an estate agent in the local area for sixteen years, most recently at Reeds Rains Cheadle, Leigh is looking forward to the move to Bramhall and getting stuck in with his new team.

Bramhall lies to the south of Stockport and the area offers a good mix of properties from small terraced houses to substantial detached properties with land. The village itself offers a superb mix of retail shopping, wine bars and restaurants making the area an ideal choice for both young and old.

Leigh, who grew up in and still lives in neighbouring Poynton, commented "Bramhall is a fantastic place to live. New buyers are attracted to the area due to its reputation, whilst current residents are reluctant to leave and it's easy to see why. With an attractive and vibrant Village centre, as well as great local schools and excellent transport links into Manchester and beyond, Bramhall has everything you need."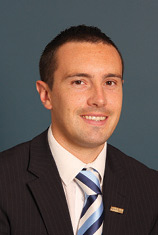 Leigh continued "I believe the key to a successful branch is great customer service. I have worked for a small local agency in the past; however at the Reeds Rains Bramhall branch I feel I can offer a more personalised service, complete with the support of a well respected brand nationally. Repeat business and recommendations are the best compliment a client can give and this is what myself and the team at Reeds Rains Bramhall will be looking achieve."

If you would like to know more about property in the Bramhall area please contact Leigh Lawler and the team at Reeds Rains Bramhall on 0161 439 5551 or email bramhall@reedsrains.co.uk. You can also follow us on Twitter @reedsrains for the latest in property news.