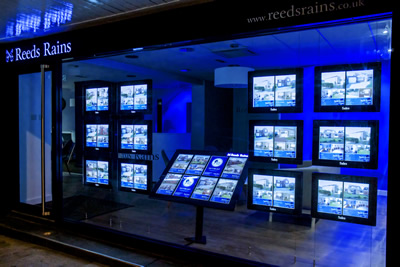 Following extensive research, Reeds Rains has created a new consumer experience in St Helen's as part of an entire brand transformation, which aims to distinguish the company from its competitors.
The modern, welcoming environment - which boasts an entire wall dedicated to an image of the Dream sculpture - will represent one key aspect of an overall revamp, which also includes a new logo, imagery and a nod to the company's traditional, solid values and longevity.
The team at St Helen's aim to build on the levels of trust and reliability associated with the company, which have been cornerstones of the business ever since founder Samuel Rains opened his first office 145 years ago.
Reeds Rains' Managing Director Oliver Blake said: "To re-launch the brand on the doorstep of where we were founded as a company is no coincidence.
"The foundations of our business are entrenched in the local area and they underpin our modern new concept, which has been a long time in the making."
Reeds Rains' research revealed that many house-hunters felt a sense of intimidation when visiting an estate agent, with no discernable difference between competing brands in the market.
Respondents also claimed that estate agents didn't care about their customers as being unique clients, as they often felt like 'tiny cogs in a machine which they can't control.'
Reeds Rains is now taking a lead from some of the UK's most successful High Street retailers, creating more open spaces, an ambient environment and an overall attempt to break down a 'them and us' atmosphere.
The mayor of St Helen's, Councillor Andy Bowden, will be present to cut the ribbon and other activities will also take place during the evening, including a raffle in aid of the Estate Agency Foundation.
Oliver Blake added: "Customers have told us that the overall experience of visiting an estate agent can feel a little overwhelming."
"Our new St Helen's design is the first tangible response to this feedback and we feel we have a result that people will really appreciate."
More information about Reeds Rains St Helen's.