The team at Reeds Rains Sale has recently expanded following the arrival of new Lettings Manager Antony Worswick. To welcome Antony to the team and to let everyone know what a great quality lettings service is available locally, Reeds Rains Sale will be hosting a re-launch event on Tuesday the 3rd of July.

Antony joins Reeds Rains Sale as the first member of staff who will concentrate solely on lettings. Providing a dedicated service to landlords and tenants alike, Antony brings a more personal approach to the lettings process, whilst offering tailor made packages suited to individual needs.

Commenting on the re-launch in Sale, Antony said "Reeds Rains have gone quietly about their business for a number of years but I think it is now time for the local Landlords to realise what a fantastic service we offer." Antony continued "In the branch we have almost 100 years experience between us and we want to use this knowledge to help guide people through the lettings process."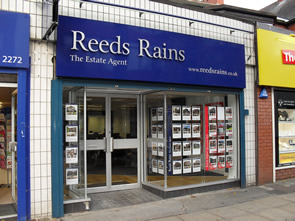 The re-launch event will be held between 1pm and 5:30pm on Tuesday the 3rd of July and landlords, both new and current, as well as buy-to-let investors are invited to stop by to see how Reeds Rains can assist with their requirements. Along with a drink and a bite to eat, customers are encouraged to browse the wide variety of properties that Reeds Rains Sale currently have on the market as well as their potential rental return.

On Tuesday the 3rd, Antony and the team at Sale will also be offering exclusively to landlords free set up fees for the month of July, for those who sign up to the full management service. Landlords with existing tenants are also able to benefit from the offer and knowledgeable Reeds Rains staff will be on hand to help.

Everyone at the branch is really looking forward to the event but if you are unable to attend please feel free to stop by at any time to discuss lettings. You can also contact your new Lettings Manager Antony Worswick by calling 0161 962 4548 or emailing sale@reedsrains.co.uk.