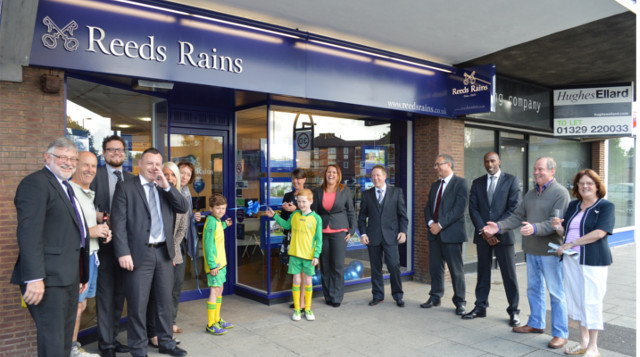 Sales and lettings agency, Reeds Rains has been celebrating the recent refurbishment of their Waterlooville office by hosting a special launch event. The event welcomed customers, new and existing along with local businesses to see for themselves the great improvements made to the office.

The office, situated at 226 London Road, Waterlooville, Portsmouth has been updated with modern new furnishings and high tech LED displays to enhance the on-going display of properties which is a popular feature with the residents in Waterlooville. Inside the office, the new Reeds Rains logo has also been designed to highlight its long standing position in the property market but also its forward thinking approach to residential sales and lettings and can been seen as a key feature within the office.The branch enjoys strong local links with the Under 8s Waterlooville Boys Football Team and as part of this sponsor the local club. Oscar Horsfall and Ethan Horsfall attend the club and officially opened the new office.
Martin Archbold, Branch Manager says: "It was great to welcome so many people to the launch event. The new office makes the staff feel a sense of belonging and pride that they work for a company who is clearly committed to the staff and local community.
Thank you to Oscar and Ethan. You did a great job opening the office, well done lads."
Attendees at the event also included: Regional Operation's Director Tim Gould, Financial Services Manager Gary Nestor, and Lettings Area Manager Lee Hudson. If you would like to find out more about how the local Reeds Rains team can help you please contact them at226 London Road, Waterlooville, Portsmouth or call them on 02392 254321(*)
(*) Calls may be recorded and/or monitored for training and/or data protection purposes.