We are delighted to announce that on Friday 25th May at the prestigious Lettings Agency of the Year Awards in London, we won the GOLD Award for Best Northern Ireland Lettings Agency!
Special thanks to Nadine Laffoley (Lettings Trainer) who put together our Northern Ireland entry and well done to Ryan Andrews (Northern Ireland Regional Director) and his team of Managers and lettings staff in Northern Ireland for this fantastic achievement.
Ryan says "We are delighted to have won this award for Lettings in Northern Ireland. We have invested a lot of time and effort in the Lettings side of our business since we opened our doors in 2010 and this award is for all of the branches in the region! We believe we offer landlords a personal, professional lettings service backed up by a province wide network of branches. The Lettings market in Northern Ireland has grown in recent years and we see this trend continuing in the years ahead. We as agents will be looking to move from strength to strength in this area."
Mark Chatterton (Lettings Director) adds "To achieve this accolade is a tremendous result and reflects the professionalism and dedication of all the staff in the branches, the lettings hub and other lettings support functions. Thank you to all these staff and to the team who helped put together our entry"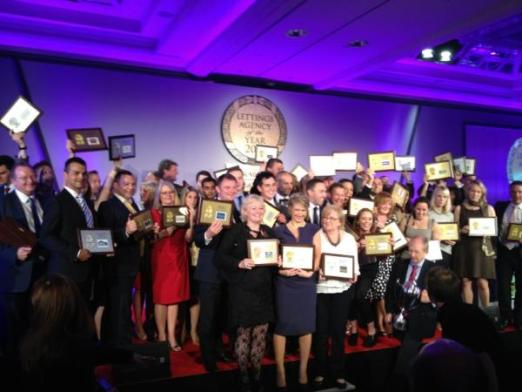 This win has been a real team effort, with a further note of appreciation also to Alison Wallace (Marketing and PR Manager) Sarah Pollard (Lettings Centre Manager) and Hannah Gretton (City Living Manchester Lettings Manager) for their valued contributions in co-ordinating the content and presentation of all our award entries.
Well done Team Reeds Rains!