The Tenant Arrears Tracker for the second quarter of 2012 from LSL Property Services and Templeton LPA has been released today, providing a measure of tenants who are in arrears.

100,000 renters now in severe arrears as rents rise and real terms wages fall,
Severe arrears cases up by 8% on a quarterly basis,
Number of court orders to evict tenants up 6% on last quarter.
The number of tenants in severe financial difficulty climbed by 8% in the second quarter of 2012, with over 7,000 more tenants over two months in arrears than in the first quarter of 2012, according to the latest Tenant Arrears Tracker by Templeton LPA, the specialist practice of LPA Receivers and part of the LSL Property Services plc Group.

In the second quarter of 2012, an average of 100,400 tenants in England and Wales were in severe arrears – an increase of 24% compared to a year ago. This is the highest number on Templeton LPA's records, which extend back to 2008.

The increase also represented a proportional rise. In the second quarter of 2012, tenancies in severe arrears represented 2.6% of all tenancies in the private rented sector in England Wales – an increase from 2.4% in the previous quarter.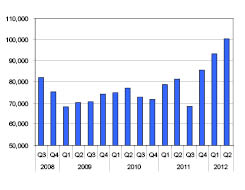 Tenants in long-term arrears (Source: LSL / Templeton LPA)
Paul Jardine, director and receiver at Templeton LPA comments: "As the private rented sector grows, the number of tenants in dire financial straits is steadily climbing. Falling wages in real terms have been compounded by rising rents, pushing a greater number of rented households over the edge financially. With the instability in the labour market and wider economy, and public sector cuts still to come, the section of renters in multiple months of arrears is likely to continue its expansion."

Although the number severe arrears cases (tenants with arrears of more than two months) continue to climb, the general level of tenant arrears across the entire market have improved, with 8.9% of all rent in the private rented sector late or unpaid by the end of May , a decrease from 9.9% at the end of April.
Paul Jardine continues: "The wider rental market currently includes a much higher proportion of financially comfortable tenants who would have been buyers before the initial credit crunch, reining in general arrears across the market as a whole. However, this will be no comfort to the growing minority of tenants several months behind with their monthly rent cheques. As mortgage finance remains difficult to secure, the contrast between better-off frustrated buyers stuck in rented accommodation and renters in severe arrears will grow starker yet, and the number of tenant evictions is likely to increase."

The increased number of tenants in severe arrears has driven a rise in the number of tenants being evicted through court orders. In the last quarter, 26,060 tenants faced eviction notices – 6% more than in the previous quarter, and 5% more than in the same period of 2011.
1 - Based on analysis of LSL and English Housing Survey data. Previous figures for tenants in severe arrears have been revised since previous editions to incorporate latest English Housing Survey and DCLG data.
2 - Based on LSL's latest Buy-to-Let Index.