New faces have brought a fresh approach to Reeds Rains branches in Consett and Stanley. Joining the branches in County Durham is a team of new branch managers and their appointments have been well received in the local market.
James Williams and Sarah Sweeney both bring with them vast experience of the property sector and have started in their new roles with some creative ideas and techniques to counteract the difficulties of the current challenging market.
Having already had a positive impact in the local market, Reeds Rains are keen to provide the historic market towns of Consett and Stanley with an honest, open and innovative approach with their great range of marketing tools and advisory services.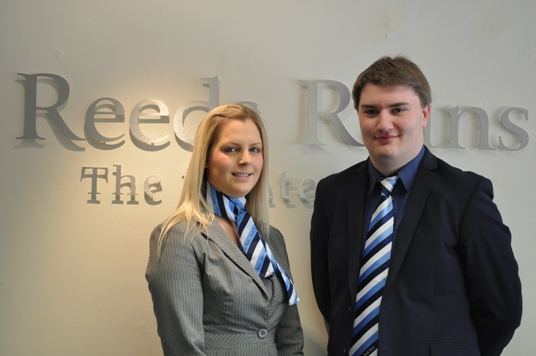 Sarah and James - New Reeds Rains Branch Managers
Reeds Rains North East Regional Director Omar Binder added "At Reeds Rains, we recognise that moving home is not all about bricks and mortar, it's about helping people get to where they want to be, which we've been doing successfully for over 150 years. We do our best to ensure that all our customers enjoy the smoothest journey, with open, honest communication along the way, whether we're letting or selling your property."
With great regional knowledge, James Williams, Branch Manager at Stanley added "Stanley is a fantastic town with a great range of properties; I'm really excited about kick starting the market in my area."
And Branch Manager for Consett Sarah Sweeney commented "Consett is an up and coming vibrant town which has a lot to offer any potential buyer." Sarah continued by saying "I am looking forward to bringing something fresh to a challenging market."
Celebrating the arrival of these new faces, Reeds Rains will be organising a charity fundraising event, so please make sure you check with your local branch for updates.
The Reeds Rains estate agencies in Consett and Stanley are part of a local network of offices across County Durham in the North East of England. You can find out more about the services offered by Reeds Rains in County Durham by getting in touch with the teams in your area. Properties for sale in County Durham as well as rental properties can be viewed online or in our branches.