It's been celebration for Melissa Miller, who lives in Salford, who has been successful in winning a month's free rent in a national prize draw run by Reeds Rains, in conjunction with the Corporate Client Department (CCD) of its parent company, LSL Property Services plc (LSL).
Melissa, who privately rents a property, entered the prize draw following completion of a nationwide survey that was run by LSL CCD to gain an in-depth understanding of the UK's Private Rented Sector (PRS) in 2016.
Distributed earlier this year, the survey was sent to 36,500 PRS tenants, all of whom are renting their properties through two of LSL's estate agency brands - including Reeds Rains.
The survey results have provided a fascinating insight into the current PRS climate in the UK – highlighting the main reasons why people rent, their key requirements as tenants as well as reporting how the motivation and needs of renters differ based on their life stage – with the report even highlighting how happiness levels vary in each group identified.
Melissa was picked at random from the huge list of entrants and was welcomed by her local Reeds Rains team to their branch at 167 Langworthy Road, Salford to receive her prize.
Melissa commented:
"This news could not have come at a better time. I'd been made redundant in January and was worried about payment of my rent so I was absolutely delighted to hear I'd won. As letting agents the local Reeds Rains team could not have been better in helping me – always happy and accommodating – winning this prize simply adds to my great overall experience of using them. And I'm so pleased I took part in the survey – not only because I won the prize draw – but also because, by completing it, I've helped to highlight what tenants look for when renting a property which might help landlords as well as renters in the future. It's a great idea.
"The money has placed me in a far better financial position than I anticipated following my redundancy and I would simply like to thank the local Reeds Rains team, as well as LSL CCD, for this."
David Bond, Head of PRS for LSL CCD added:
"We're delighted that Melissa won the prize draw, amid competition from across the UK, and would like to thank her for taking part in our survey. With her support – as well as the help of many others who completed the survey – some really interesting facts have emerged to ensure we have a much better understanding of the needs and requirements of tenants which, in turn, should help us as a business but also, of course, the ever increasing number of our PRS customers."
Stephen Yearsley, Lettings Manager at Reeds Rains in Salford commented:
"We're absolutely delighted for Melissa and know she was one of many of our tenants who completed the survey. To be randomly picked from so many entrants is great news for her but also the local team who have supported her in finding a rental property – we're very pleased for her."

The results of the Tenant Survey is available to view here.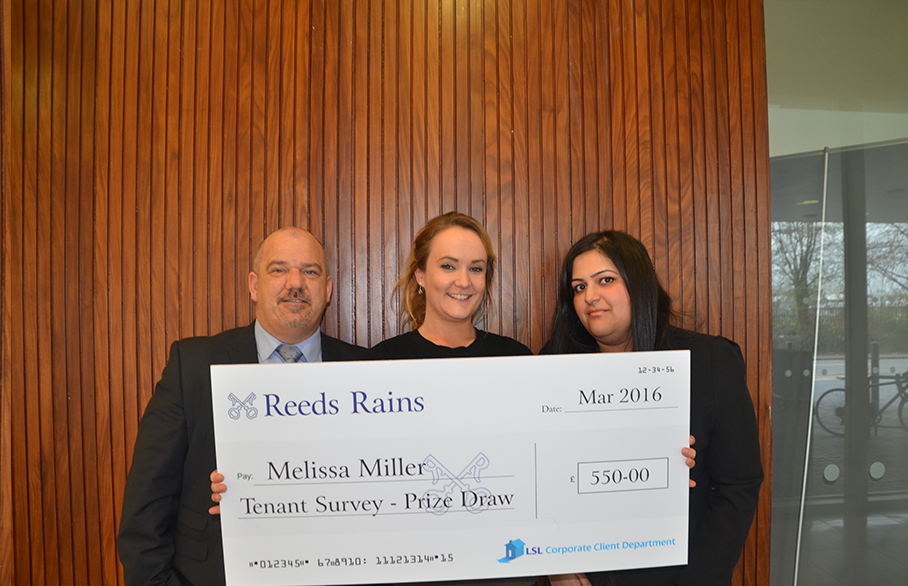 ---
Thinking of renting or currently renting? Take a look at our tenant guide here.