Reeds Rains in Nantwich have been taking part in the charity Cash for Kids' 'Mission Christmas' by collecting toys from the local community to be distributed to disadvantaged children.
Now they have also received a sizeable cash donation towards the charity from Natwich's local Masonic group, Kings Friends Lodge, who donated a cheque for £250.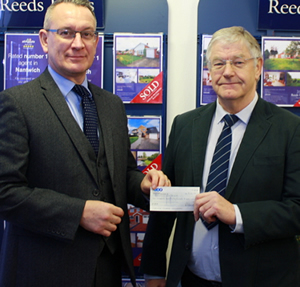 John Poulson, Director of Reeds Rains in Nantwich said:
"We are particularly delighted in having received a very generous £250 donation, presented to us by Derek Smith on behalf of King's Friends Masonic Lodge here in Nantwich. They support a wide range of local charities including St.Lukes Hospice, The Wingate Centre and Macmillian Trust, so to be numbered amongst their recipients is very flattering."