Reeds Rains Portishead was very busy over the Easter weekend, donating to a local Easter competition as well as sponsoring a paper egg trail in the town centre.
The Portishead based estate agents were delighted to donate Easter egg prizes to the under fives at Portishead Youth and Community Centre. Easter competitions were organised for those attending the daytime soft play sessions which ranged from colouring in to making Easter bonnets.
Director of Reeds Rains Portishead, Martin Bowley, said:
"It is important to us to support community events and activities and we hope the children enjoy their chocolate prizes."
A spokesman for the youth centre said:
"It really is appreciated when members of the business community support projects like this. The children are extremely excited and are looking forward to getting creative in the hope of winning an Easter egg."
Reeds Rains Portishead was also pleased to sponsor the printing of entry forms for the town's two week Easter trail.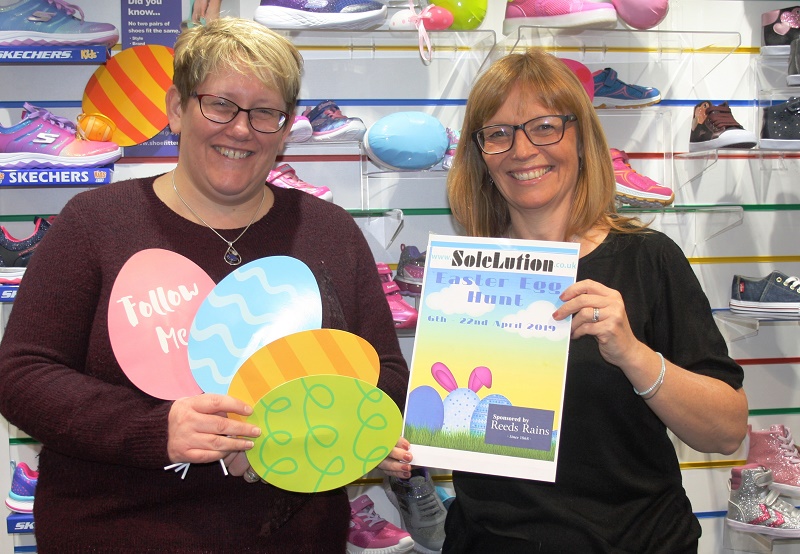 Pictured: Tanya Marriott owners of SoleLution shoe shop and Candy Minshall of Reeds Rains.
The South West branch joined forces with the local shoe shop to launch a paper egg hunt throughout the town centre, which ran for two weeks during the school Easter holidays and offered a selection of prizes for the winners. A £1 entry fee was donated to the charity Educate the Kids.