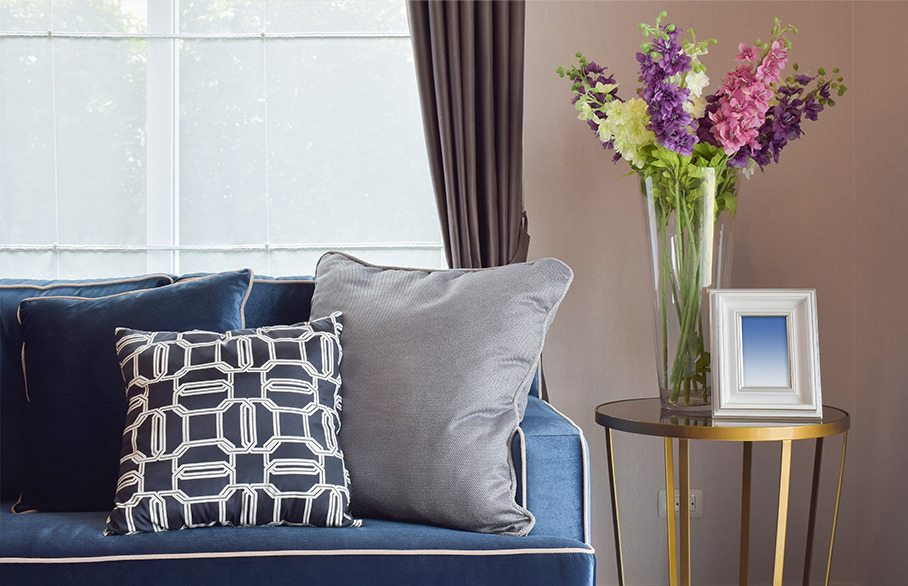 Potential buyers want to imagine themselves living in your property before they make the decision to purchase. When selling your property, you need to put yourself in the position of these potential buyers. Outstanding presentation of your property is what you need to find the right buyer quickly.
Taking the time to prepare your property for professional photography is well worth it, as professional photographs, compared to less attractive photos, result in 93% more viewing enquiries as a result. (*)
You can only make one first impression on potential buyers, so showcasing your property in a sub-par manner is all it takes to make a potential buyer move on.
Lighting and colour coordination
Maximise the amount of natural light in your property by booking viewings and taking photos at peak sunlight, which is usually around midday.
For artificial light, think about your target buyer. If your property is a family home, consider a warmer palette with yellow or orange-tinged LED lights. If your property is better suited for a fast-paced businessperson, perhaps consider a colder palette with clean white LEDs.
Coordinate your colours by rearranging furniture or investing in new items. Match tones and materials logically, such as a metallic bedside table to match a metallic bedframe, or a wooden coffee table to match a wooden TV stand.
Clear your space
Clutter never looks good, and what might be an important keepsake to you could just seem like clutter to a potential buyer. Clutter overcrowds your property and will make rooms feel cramped.
Get rid of items you don't use. If you can't explain what functionality an item is providing to your property, when it was last used and when it will be used next, you likely don't need it and would appear as clutter to a potential buyer.
Nonessential items you want to keep should be stored away in baskets or cupboards and out of sight for photos or viewings.
You want to showcase your property's key selling points, but also present it as a blank slate for your potential buyer to make their own.
Consider your potential buyer for a moment. If your property would appeal to a single person but you have children, store child-care items out of view.
Reducing clutter will make your property easier to navigate. If you need to, consider going further and removing obtrusive fixtures and furniture.
Stage your property properly
Once again you need to think about how your target buyer would use the space within your property.
Make sure that all entrances and exits are cleared and paths to and from them are accessible. Avoid placing furniture in positions that block free movement, and in positions that require people to walk past those using them.
Generally, furniture against walls will let you maximise the central space of each room. Why not try a few different configurations before settling on one.
If you want to go even further, consider temporarily repurposing spaces. For example, a child's bedroom could be changed into a colourful study for photographs. Or at viewings, you can show the potential buyer how different rooms can be repurposed.
Plants are always a plus as they can add life and texture to your property.
---
Make sure that you are asking for the right price for your property. Find out how much your property is worth right now with an instant online valuation.
Discover your property's value now
(*) Focal Agent 2020