Reeds Rains are proud to have supported Cash for Kids' Mission Christmas appeal in 2017.
Reeds Rains branches acted as drop off points for gifts to be donated to ill, disabled or disadvantaged children in our regions.
We caught up with Cash for Kids' Sales and Marketing Director Emma Brown who told us about the results:
"Mission Christmas generated donations of £17,555,013 and helped make Christmas special for 399,419 children across the UK. We are over the moon as this compares to £15.4 million in 2016 - an additional £2 million helping nearly 60,000 more children across the UK!"
We'd like to say a massive thank you to all our customers and colleagues who helped us to contribute to such a good cause.
Coming soon - Supherhero Day, 4th May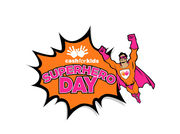 We can't wait to work with Cash for Kids again and this year - for the second year running - Reeds Rains will be headline sponsors of their Superhero Day on 4th May.
Watch this space for news of this fantastic day of fundraising, or why not learn more about last year's Superhero Day?