The Reeds Rains Morley Branch Manager, Cairn Morrison, will be running approximately 130 miles to raise money for Radio Aire's Cash for Kids. The Long Run will start on Saturday 4th May and finish on Friday 10th May, which is Cash for Kids' annual Super Hero day.
Cairn will run to each Reeds branch along the way. Starting at Bridlington, he will be running through Scarborough, Malton, York, Selby, Crossgates and Morley, before finishing at Cleckheaton.
When asked about The Long Run, Cairn said:
"I'm really excited and obviously a little scared about this multi-day challenge, The Long Run. Radio Aire's Cash for Kids is a fantastic charity and I know that on the really tough parts of this run, when my legs are extremely tired, it'll be the thought of what the money raised will do for the children and young people of Yorkshire that will keep me going to the end."
Radio Aire's Cash for Kids is dedicated to helping as many sick, disabled and disadvantaged children in Leeds and West Yorkshire. By delivering unique and engaging events and initiatives, their aim is to raise awareness and generate support and funds to make a significant difference to thousands of children every year.
Lisa Sullivan, from Radio Aire's Cash for Kids, said:
"We are so thankful to Cairn for his amazing support in doing such a fantastic physical challenge. The money he raises will make a big difference to the lives of the children who desperately need our support in West Yorkshire. We'd like to wish Cairn all the very best and we look forward to seeing him on the last leg of his run at Morley Reeds Rains, thanks in advance to all his supporters and please give what you can to help Radio Aire's Cash for kids"
The route of the run will be a tough and challenging test for Cairn, but he will have support along the way as some of his fellow colleagues from other Reeds Rains branches joining him as he goes. Below is a map of the journey Cairn will face with all the branches he will pass marked.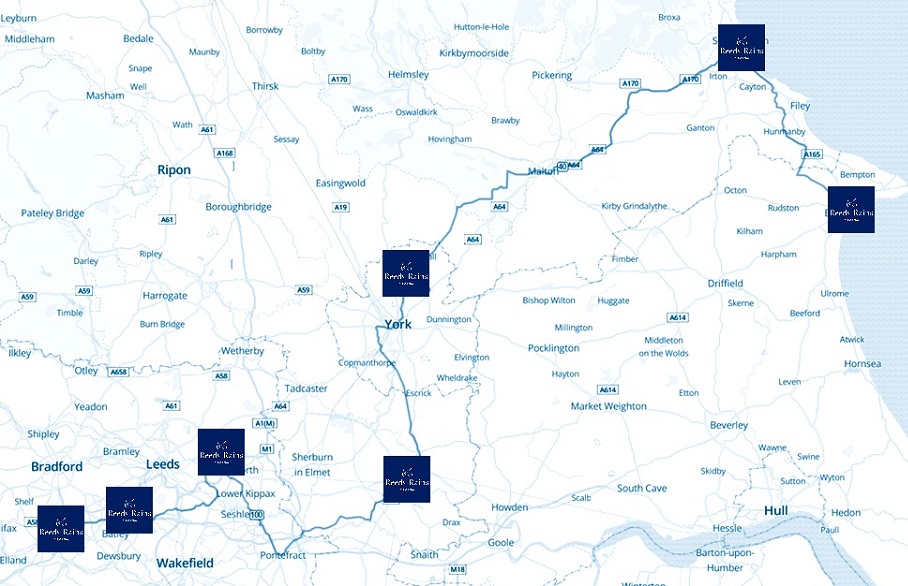 The journey will take him through Bridlington, Scarborough, Malton, Haxby, Selby, Pontefract, Castleford, Crossgates, Rothwell, Morley and Cleckheaton.
Cairn has been training for this since the start of the year, which has included entering the Greater Manchester Marathon. He has been averaging 40-60 miles a week, which is less than half of what he will do during The Long Run but is looking forward to challenge.
If you would like to support Cairn in this immense challenge to raise money to help improve the lives of children and young people, please kindly make a donation to Cash for Kids.