Choosing the right estate agent is your first step along the way to selling your home and moving on.
Obviously you'll want an estate agent who has lots of local knowledge about your local property market and experienced branch staff to get the job done of selling your home.
However, you may also want to consider what other associated services they can offer you, how they will communicate with you during the sale, and what kind of online presence they have. Here's our Reeds Rains guide to those factors:
Complementary Services
With so much to think about when selling a property the advantages of using an estate agency that offers a range of services – all under one roof – is often welcome and something that should be considered when choosing an agent to help you.
As well as the traditional estate agency services – at local or even national level - some agents, for example, can offer support in finding a mortgage or remortgage.
If interested in these services it may be worth finding out what mortgage advice the agent can offer – and the number of products they may have access to. Some agents may be in the fortunate position of being able to provide details of mortgage deals from a wide range of lenders – including the majority of the well-known high street lenders – which then reduces the need for the seller to shop around to find a mortgage themselves.
Some agencies – because of their size and presence in the market – have also been able to negotiate with third party suppliers to offer additional services such as conveyancing and private surveys. These can often be more easily organised from the estate agency branch – who have contact with specialists in these fields – which can help speed up the process and, again, avoid the seller having to find the support elsewhere.
To find out more about the complementary services an agent offers it might be worth taking a look at their website where, perhaps on their homepage, they should list the services and products they have available. As part of this it might also be a good idea to find out if the agent operates only in the residential market (and what sort of properties they market) - or if they offer letting services too. If you don't want to sell or buy immediately (or haven't found what you are looking for) their staff could help you in renting instead or even put you in touch with specialist who can tell you about new build developments coming up – and which might open up the options to buy.
Overall the more services on offer from your chosen agent, the more likely you'll be able to get the support you need – all under one roof – which should, in turn, help to speed up the process and ultimately improve your house selling experience.
Communication
Selling a property can sometimes be stressful and how your estate agent communicates with you goes a long way to relieving this stress.
It is important to choose an estate agent you can talk to easily, for example do ask them for advice on presenting your property, or preparing the house for professional photography, as they are the local experts and should have a great deal of experience of the local property market.
Before choosing an estate agent, ask them how often you can expect to hear from them during the sale. How regularly will you get updates on how many potential buyers are looking at your property in their branches or online? Will they ring you or email you after a viewing has taken place with feedback?
Does your chosen estate agent have an online account where you can see how your sale is progress at any time you want? Showing you when solicitor instructions have been received, mortgage offers received, surveys completed, etc.
A good online presence

There has been a lot of press about online only estate agents. But all estate agents should be online offering a shop window on the web for the 90% of customers who begin their search for property online.
As a seller or Landlord you want to know that your property will be
advertised online to the largest potential audience,
that it is presented in a way that will induce potential buyers or tenants to find out more about your property.
And that it is full of useful supportive content to help guide you through your property journey
Look for an estate agent that has a local branch where you can visit if you have questions or concerns – there is no replacement for that personal touch.
A good estate agent will pay much attention to helping you understand the journey and plan for your move by publishing online guides, top tips and checklists. See if they have a FAQ section and glossary and importantly that you can find out how to contact your local branch either online or in person.
Checklist:
Is the company address and VAT number displayed prominently on every page. (This is a legal requirement)
Can you easily find how to contact your local estate agent? If not they might be trying to hide something!
Is it easy to request a property valuation, book a viewing, or get financial advice via online forms. If you can't then any prospective buyer or tenant won't be able to.
Try the property search and the various filters and advanced search options – do they show you what you expect? are they easy to use? does it miss any important information?
Top Tip:
Many aspects of a good website are hidden in the code and the way the site has been built. If it hasn't been built well it can be blocked by Google, and potentially therefore your property won't get seen. Also this would be a good indication that the estate agent is not a professional establishment.
Type into google site:[insert website address without brackets]
for example Site:www.reedsrains.co.uk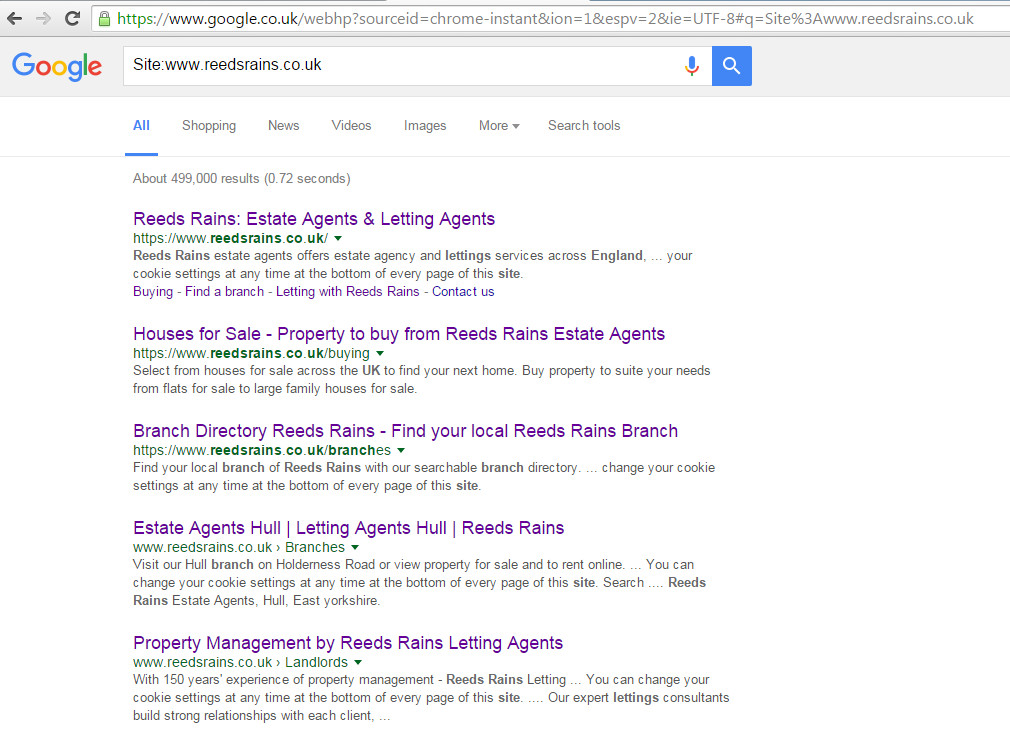 The results are all the pages that Google has found – if Google can't find any or many – then that would be a big warning sign. A good estate agent should have thousands of pages indexed in Google or other search engines.
Local experts
Research indicates that 82% of consumers say they prefer to work with a 'personal agent' who can manage the whole process of buying or selling a home. Local estate agents provide the traditional values of a high street agent where home buyers can experience the reassurance of face to face interactions. This makes the whole house buying experience more personal and tailored to the customer's needs, to provide a high level of customer experience and satisfaction.*
Being a local expert means the estate agent has a good knowledge of the local property market. Local agents know what types of property are selling well and what prices they sell for. This saves the seller time as they do not have to do this research themselves.
Customers can also gain access to a range of online tools available through the agent. For example, homebuyers can benefit from creating their own online account which keeps them updated with all aspects of the house moving process.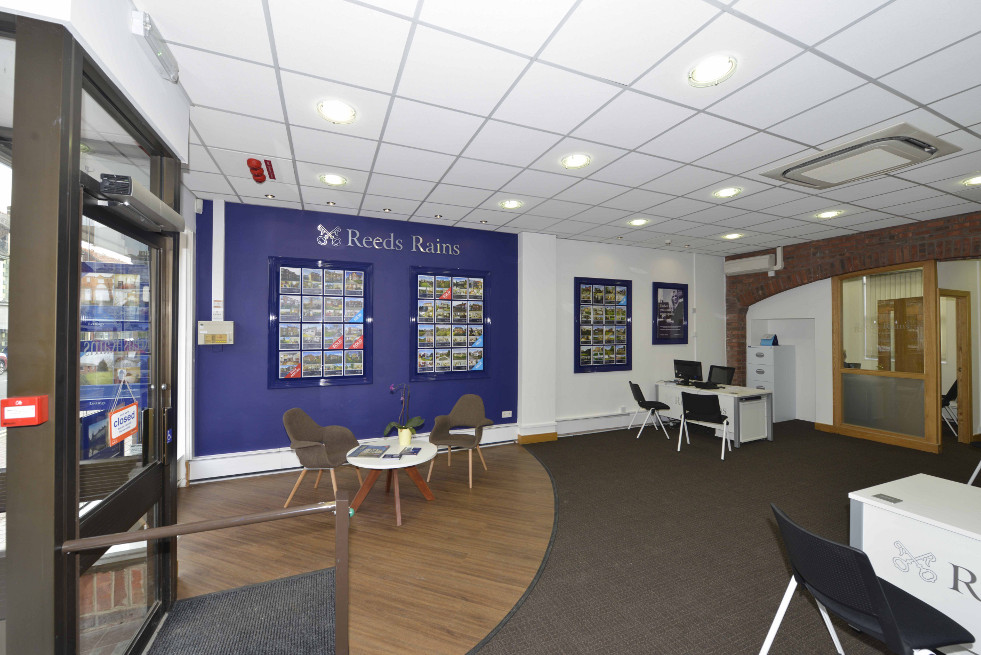 Estate agents invest heavily in maximising the potential reach of their audience to give them, and the seller, the best possible chance of finding the right buyer for the property. One way estate agents do this is by using property portal Rightmove, which attracted a record 1.3 billion visits during 2015, as well of course as their own offices, website and social media channels.**
Chasing the conveyancing chain is another skill the local estate agent has. Estate agents do not just find a buyer, they also keep involved during the legal conveyancing chain to make sure everything is running smoothly for the sale of the property. They can assist conveyancing solicitors with issues and with chasing other parties in the chain which avoid the chain breaking and the deal potentially falling through.
Local estate agents are professional, with a genuine interest in their customers and the local community which is why some tailor their office to their local area. For many customers, this provides them with reassurance that they will receive the best customer service and get the job done quickly.
Visit Reeds Rains to discover how they combine the qualities of a long-established business with the most advanced marketing techniques to get people moving with the minimum stress.
*https://www.estateagenttoday.co.uk/breaking-news/2016/5/vast-majority-of-consumers-prefer-a-personal-agent
**https://www.estateagenttoday.co.uk/breaking-news/2016/2/rightmove-poised-to-announce-record-traffic-agents-and-leads
YOUR HOME MAY BE REPOSSESSED IF YOU DO NOT KEEP UP REPAYMENTS ON YOUR MORTGAGE.

Our initial mortgage consultation is free. We will charge a fee between £349 and £699 on application. The amount we will charge is dependent on the amount of research and administration required.